2 weeks ago at Seattle Lean Coffee Michael Wolf shared a story about seeing two colleagues at a conference who had not seen each-other for years reunited without much fanfare. One of them looked at the other and matter-of-factly said "Hey, long time no see, what are you reading?"
Michael felt like this was a powerful question. What we're reading at a given time could be a great window into our interests and where we are in life. Full disclosure: I've never been a big reader. I would still not classify myself as a big reader. I read books because they contain deeper technical and/or theoretical detail into subjects about which I am passionate. I would say presently I only read in a professional context. I read books that I hope will give me new insights into how to do my job as a tester and agile process advocate better.
I would love to hear what my peers and readers of this blog are reading. Maybe we can expose one-another to some new ideas.
Books I've finished recently:
Linchpin (Seth Godin): This book talks a lot about the state of our economy and the value of creative emotional workers and their work. Seth makes really insightful points about how following maps at work and being unthinking cogs in a machine will lead to your job being outsourced to a more inexpensive cog somewhere else. Conversely, if you are passionate about your work and you put emotional creative energy into it, you will be irreplaceable. You can easily replace a guy who stamps a piece of metal in a factory with a computerized robot. You can't replace an artist with a computerized robot. This to me is analogous to the discussion around testing vs. checking. Testing is a challenging sapient intellectual art which you cannot teach a computer to do anymore than you could teach a computer to create an original painting that expresses emotion.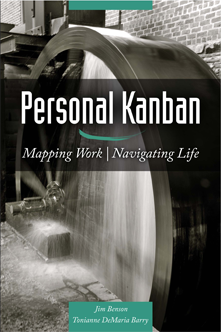 Personal Kanban (Jim Benson & Tonianne DeMaria Barry): This book changed the way I think about every task I tackle in a given day. I found this book very easy to read, entertaining and non-dogmatic. After I read this book I started organizing my backlog in post-its. When I travel places I take a notebook and some post-its so I can manage my flow on the road. Jim and Tonianne have written the definitive guide to turning the stress of a given pile of tasks and transforming it into an innocuous backlog of sticky-notes. Where I once finished a task and forgot about it, I now have a nice satisfying pile of stickies under the "Done" column to celebrate. While I once wondered how I'd ever be able to tackle my busy workload, I now have a nice limited work in progress column. How I have used the concepts learned in this book to change the way I handle my work and home tasks is a blog post in itself. For now I'll just suggest you read this book. My copy has been abandoned in San Francisco in hopes it'll help infect my engineering team with these principles an concepts.
Reads in progress:
Specification by Example (Gojko Adzic):This book eats its own dog food. You could have accurately titled this book "Specification by Example by Example" because it's full of real-world examples of various business and technical challenges surrounding the practice of building living executable documentation in a domain specific language using a collaborative whole team approach to software development. Gojko covers high-level business examples as well as technical details around various approaches and tools useful to solving real-world challenges. I haven't finished this book yet, (about 80% finished) but so far it's been really great.
Anything You Want (Derek Sievers): "Anything You Want" is a short book chronicling Derek Sivers' experience building CD Baby. I was attracted to his book by his videos on Vimeo which I Came across on Twitter. It's a short book that I accidentally almost finished by virtue of having great difficulty putting it down after I bought the kindle version. Derek was not an aspiring tech startup. He wasn't at meetups trying to elevator pitch angel investors. He was a musician frustrated with the poor options available for distributing his CD. He taught himself to code so he could make a shopping cart and accept credit cards on his website long before paypal existed or even eCommerce became catchy. Soon his friends started asking if he wouldn't mind selling their CD too. Slowly his little project expanded to the point where he needed to hire an employee. Eventually CDBaby took off and was wildly successful. Throughout this experience Derek didn't lose touch with his customers. He never strayed from his mission to help independent musicians get paid for their music even when big labels came around offering bags of money to give their artists special treatment. It's a quick read but a great one.
I miss the mob from Derek Sivers on Vimeo.
Hell Yeah or No from Derek Sivers on Vimeo.
Start Now. No funding needed. from Derek Sivers on Vimeo.
Lessons Learned in Software Testing (Kaner, Bach, Pettichord): This book is the exploratory tester's bible, why haven't I finished it yet? Because every time I open it and start reading I put it down and go test. I mean it's like I'm building a marble sculpture and reading a book about sculpting techniques. I read a chapter and run downstairs to my workstation and dive into testing. I would ordinarily say that a book that is hard not to put down is not a book worth reading. But there is too much good stuff in this book for me to sit down and keep reading. I have often considered doing a "Bold Boast Book Club" on this book in order to motivate me to finish it, but I am having too much fun using this book to improve my craft. If you're a tester, or a programmer, or a product manager, this book will help you to think about software in a different way.
Okay So tell me what are you reading? What do you think about what I'm reading?